FOLD and GO - PACK and TRAVEL
Travelling from A to B with mobility issues has never been easier than with one of our lightweight folding travel mobility scooters, or portable folding electric wheelchairs. Travel by car, train, cruise, airline – the choice is yours. Experience the convenience and freedom of one of our portable travel scooters or folding electric wheelchairs today. We stock the best quality and design in each category that offer the user clear benefits over others.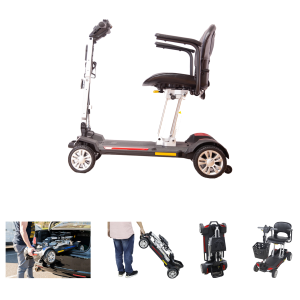 Folding Travel Mobility Scooters
Take these folding mobility scooters with you on a cruise, plane, or in the boot of your car. They are lightweight, fold easily, compact and highly portable. These scooters are powered by a lithium battery and can be wheeled along like a travel suitcase when fully folded.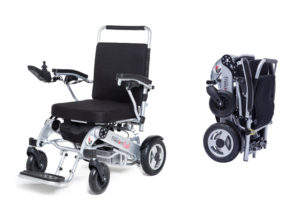 Freedom Chair Electric Folding Wheelchairs
Now nine models in the Freedom Chair range to suit individual user needs. Including easy to lift splitter models DE08 Premium Lite and DE08L Premium Lite Sport. Take these folding power chairs wherever you go. These portable electric wheelchairs fold in a second, are compact and lightweight. There's sure to be a model to suit you. Ideal for travel.
"Great chair to travel the world especially the ability to split in two to carry into our standard balcony cabin on the 107 day 2019 World Cruise with Princess, Sydney to Sydney. The chair coped with everything we put it through, steep gangplanks, cobblestone streets, hills, grass, trains, buses, taxis and we never got anywhere near running out of battery power. My wife finds it very comfortable to sit in and easy to control." Kevin Sydney   Read more Testimonials…

Light Weight


Compact


Easy to Fold


Easy to Transport


Ideal for Travel


Easy to Operate

Best in the category


Lithium battery powered


Top quality and design


Pre purchase trials available


Australia wide after sales service


Free delivery
" I am enjoying rediscovering my independence with the Freedom Chair – it is a credit to its designer and manufacturer. Portable Mobility are a joy to deal with" Read more Testimonials…
In home demonstration scooter or chair set up and training is available in most areas
"It is the best portable electric wheelchair I have seen on the market. 5 out of 5 for quality service and product!" Read more Testimonials…

New Porta-Scooter Upgrades
The new batch of the top selling Porta-Scooter Folding Travel Mobility Scooters have arrived. They now come standard with longer range 24v 15ah lithium batteries. Airline compliant 24v 10ah batteries are available. There's also a new feature. Porta-Scooters are now pre-fitted with a rear basket/kickstand. Apart from providing extra storage space it means the portable […]

Children's Freedom Chair A11 Mini Plus now available
Children's Freedom Chair A11 Mini Plus is now in stock and available for trial and delivery! Check out the details under the Freedom Chair Range for more information. Or email: info@portablemobility.com.au or call: 1300 760 071
Choosing a Portable Mobility Scooter or Powerchair ?
Folding travel mobility scooters and electric folding wheelchairs are much lighter and compact and can easily be transported for travelling. This opens up tremendous opportunities to get around with much greater independence than before. Shopping trips in the car become much easier, and a cruise or flight overseas suddenly becomes much more accessible. From our experience over the years, this form of travel mobility can be truly life changing for the user.
Both the travel scooters and portable chairs perform the same basic essential function – moving around easily from A to B. Scooters are most suited where the user finds walking distances challenging and too difficult. And the chairs are the way to go for users that lack upper body strength and mechanical body movement. But there is a big crossover and sometimes it comes down to personal choice.
As you do your research, you'll find It's better to choose a travel mobility device that is a one – piece folding design. Much easier than having to put it together and dismantle all the time which can be very cumbersome especially when travelling. It needs to be lightweight, well designed and strong, fold easily and quickly, comfortable and robust, and come with a good quality lithium battery. Make sure the lithium battery is under 300 w/h and has a valid MSDS so it can be taken on the plane.
The mobility device should meet Australian Standards and for greater peace of mind choose one that is TGA registered.
We have dealers in Melbourne, Sydney, Brisbane, Adelaide, Perth, Darwin, Hobart, Gold Coast, and many regional areas. Please call us on: 1300 760  071 
*  Don't forget to check out our Freedom Chair DE08 Series, Premium Lite and Premium Lite Sport that split in two for easy, light lifting into the car. They literally split in seconds. A video that shows how this is done is on the product description page and the blog page. These chairs are the only ones in Australia that split for easy lifting!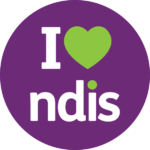 We are a registered NDIS Provider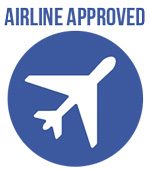 Travel Mobility Scooters - Portable Electric Wheelchairs